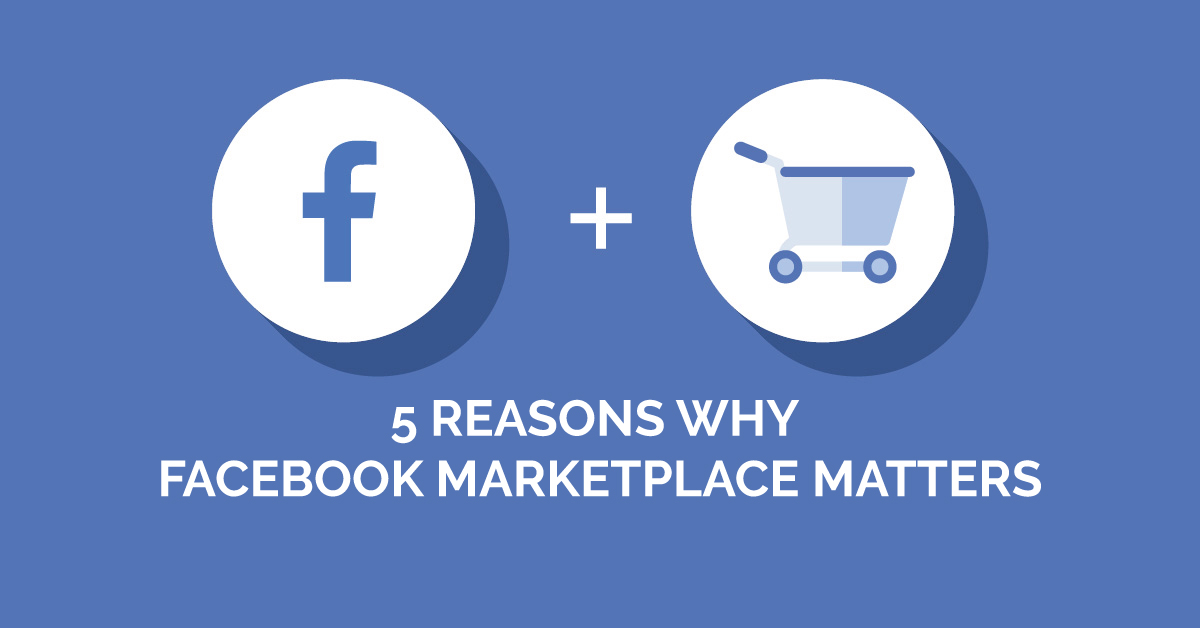 04 Oct

5 Reasons Why Facebook Marketplace Should Matter to You

Facebook launched Marketplace yesterday, "a convenient destination to discover, buy and sell items with people in your community", quoted from the official announcement.

The announcement generated a lot of buzz, even caused significant drop in eBay's stock price. Although the service is mobile only and only available for several countries at the launch, many predict this feature to post serious threat to Craiglist, eBay, and even regional C2C startups like Carousell and Shopee, as posted by Tech in Asia in a response to the launch.

I've been observing the evolution of social commerce for the past 5 years (I even founded a social commerce company in its early days), there are 5 reasons why Facebook Marketplace should matter to your business that I believe you should take note, before adjusting your digital strategy.

Let's jump right in.
Hyperlocal and mobile first
Facebook has a staggering 1.71 billion monthly active user base to tap on to, so gaining traction is no issue for them.
Remember how Facebook's strategy to force everyone to download Messenger that lead to the growth from 200 million users to 1 billion users in under 20 months? Read about it here.
I believe the question we should ask is not "will it take off?", instead we should start thinking how we can ride on the wave and get a headstart. The keywords to focus on here is "mobile" and "local".
I have been pitching about Facebook going hyperlocal for awhile, and with recent launches like yelp-liked Professional Services and those new location based features for Facebook Pages, Facebook is obviously targeting local businesses. Even the Facebook Ads Manager is constantly being tweaked to be more user friendly for new advertisers, which is useful in onboarding small businesses.
I see Facebook Marketplace a great opportunity for local businesses to get discovered within the community. Tapping on the mobile discovery feature – the Marketplace button is taking over the premium spot used to be taken by the Messenger button, and the integrated map in each item listing. Although the feature is not available for Pages right now (I believe soon will be), businesses can still consider using the feature to grow footsteps to your local establishments.
Below is the comment by Marketplace Product Manager Bowen Pen:
"After we're confident we've built out a great product experience for people, we'll look into introducing businesses if it makes sense, and after that we'll look at how we could potentially monetize the surface." (Source: Techcrunch)
Deep integration with Messenger
While the feature is yet to be available for Pages, I can't stop imagining the deep integration it can have with chatbots and other Messenger features and how powerful it can become.
Facebook advertisers already can start creating Messenger destination ads to drive conversation, this move is predicted to be able to boost the usage of chatbot to create a more personalized experience with potential customers. If you missed the update, read this piece from Jon Loomer.
I'm not sure about other countries, Messenger and similar communication apps still play an important role in social commerce in Southeast Asia countries, especially Malaysia. Conversation is important, and imagine you can actively ignite conversation with chatbot integration, it will definitely help smoothen and speed up businesses process for online sellers, be it for selling process or customer service.
Facebook knows social commerce, and its users
Facebook is extremely good at audience segmentation, you know it if you use Facebook advertising. Just because Facebook knows you so well (we gave them all the data it needs to do that), it knows your interest and your behaviors through its machine learning. It is easy to identify and mobilize people with similar interest towards a goal, or to suggest you groups, pages or in this case, items for sale that you might be interested in.
Staying true to its mission to help people to share, stay connected and discover, the feature fits perfectly within the categories, and usually when it does, the feature will be a success.
As mentioned in the announcement blog post, this feature was launched after Facebook sees a steady growth in their buy/sell groups and Shop section in Pages, which it says to have more than 450 million people visit buy and sell groups every month, now that's some solid statistic to depend on.
Just like how accurate those suggestion for Facebook Groups is fueling the growth to achieve the above mentioned number, deploying same tactic will definitely help surface items for sale that interest you, which eventually will lead to more visits to the Marketplace as a whole, then a habit will be formed.
It is a returning feature
In case you have forgotten, Facebook launched the first iteration of Marketplace in 2007 powered by Oodle. Read more about it here.
Although the feature was shut down in 2014, I believe the social network has learned a great deal from that experience.
Put it this way: as you can see the launch has generated so much buzz, and given the past few features launched were being criticized for ripping off features from competitors, I believe if Facebook isn't confident enough that this will work, they won't be making this move.
I believe what we're seeing is just the start. As the platform matures and becoming richer in features, probably more iterations as it grows while learning from usage patterns, it might even evolve to become something in different form from what it is today.
Lastly, not to forget that payment is coming to Facebook. I have a feeling Marketplace and buy/sell groups will be the key strategy to on board users and popularize the future payment feature. Watch the space.
Facebook Advertising and monetization
Last but not least, do not forget about Facebook ads – my favorite topic.
If you pay close enough attention, you'll realize Facebook advertising has been changing rapidly in the past few months, all for good and it is becoming more prominent and useful than ever.
Facebook has been introducing new advertising objectives, tools, and placements to help advertisers reach their potential customers more accurately and effectively. If you're new to Facebook advertising, download our ebook about Facebook advertising objectives.
As for Marketplace, after it become successful, expect this to become a new ads placement destination. I even imagine a new form of Facebook advertising integrating few tools together –  Imagine you can advertise not just for the 13 objectives, but for an integrated set of actions, for example, a sponsored item listing in Marketplace to trigger conversation on Messenger and then lead to website clicks and more, or even create more accurate Custom Audience based on actions taken on all these Facebook native features.
I'm not sure about you, but I'm excited about the new Facebook Marketplace.