17 Jun

How to create Facebook "Message Us" button to your website

Update: This article explains how to create a "Message Us" or "Chat now" button for your website using native Facebook feature. API might have changed, if the steps is not working please refer to official source for details.

Messenger is becoming more and more important in Facebook advertising strategy mix. Follow my Facebook Page for daily Facebook advertising tips and videos.
Facebook Messenger for Customer Service
Facebook is eating the internet in many ways, one of them is definitely Messenger – it is changing the way we communicate with each other, and with brands. Facebook launched bots for Messenger in f8 2016, not everyone is excited about it but we see the way it might change a lot of things, one of them being online customer service for brands.
Like it or not, messaging is one the most important element for ecommerce in our part of the world. No matter how well you build your ecommerce website, how you strategize and educate your customers towards better online shopping experience, we still can't really get rid of "PM".
From our experience working with brands in website development projects (yes we build award-winning websites), we see an increasing number of clients asking for live chat feature for their new website. While live chat isn't bad at all, but there's a problem in terms of user experience and management – most free plugins require user to login via desktop/laptop to manage conversation. It is actually not quite user friendly.
When Facebook rolled out a bunch of enhancement and new features around Messenger, we saw the possibility of Messenger taking over those softwares and become THE ANSWER for online customer service.
Facebook Page Plugin
First of all Facebook Page Plugin allows you to create a conversation box in your Page box that you usually place in your website, like this:
How do we do that? First visit https://developers.facebook.com/docs/plugins/page-plugin, Follow the setup steps as below:
Insert your Facebook page URL
Replace the default "timeline" with "messages"
Click "Get Code" and paste it in your text widget or article body in HTML mode
It should look like this. Yes this is live, you can go ahead and ask me anything about Facebook advertising, or click the "Like" button to follow my daily Facebook tips. 🙂
If you wish to have more tabs, scroll down further and you'll see "Page Tabs: Timeline, Events & Messages" section, look for "Adding multiple tabs" option and copy the updated code and past it on your website where you want the box to appear.
Pretty simple way to create another avenue for your website visitor to start conversation with you.
Facebook Customer Chat Plugin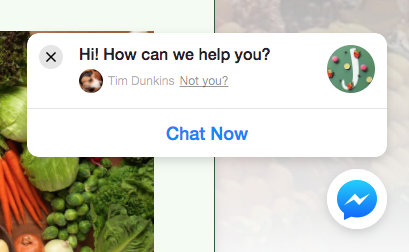 Alternatively, many have seen the "Chat Now" bubble (like screenshot above) being featured everywhere on the bottom right corner of websites but not sure how to get that. While getting the button officially may require some technical knowledge to setup in Facebook Developers, there's actually an easier way to get that.
First you need to have a Facebook page, follow the steps and we will get there together.
Follow the steps:
Go to Settings of your Facebook Page
Look for Messenger Platform at the left sidebar
Under Sections, select Customer chat plugin and click "Jump to Section"
Click "Set Up" and you'll see a welcome screen, click "Next"
Select your language, and set your preferred greeting message, click "Next"
Customize your color (to me, default is ok as it gives the "Facebook feel"), click "Next"
Insert the domain you wish to install the code, you can choose to copy and install the code yourself or get the developer to install for you. Usually install at the footer section of your website.
Click "Finish" and you should be done
Go ahead and try, let us know if you run into any issue we will do our best to help.
Messenger for Facebook Advertising
Why are we driving conversation on Messenger? Facebook is working on creating a united experience uniting 4 platforms, namely Facebook, Messenger, Instagram and Whatsapp in near future. This move will deepen the interaction between consumers and brands, and Messenger as a platform that provides open API for integration, will become the centre piece of the strategy.
Welcome to Facebook Private Advertising where the experience will be more focused on 1-on-1 between brands and consumers. While building the interactions remain subjective to business needs, either you build a chatbot for customer service or ecommerce sales, driving conversation to Messenger should be your focus in near future.
By accumulating conversations on Messenger level you're able to run advertisements in ways that is not possible if the customer interact with you on other platforms, examples are:
Sponsored message to those who messaged your page up to 365 days earlier
Build subscription-based messaging experience for consistent communications
Managing customer service with a large team for segregation and monitoring
Building various experience to drive conversation and conversions
The future is bright, and you must start now. Join our Facebook advertising classes to learn to become a better Facebook advertiser, ahead of your competitors.