26 Jun

Facebook Ads Targeting – Optimization for Ads Delivery

Facebook has been adding new features to its ads manager and business manager, you might find it difficult to follow all the changes if you do not frequent the tools. While all the changes might be a little bit confusing, I'd say all these changes will only make Facebook advertising better for advertisers.

One of the participants of our Facebook Ads Accelerator online learning program asked me in our support email, which optimization option should he choose for ads delivery. That's a good question, let's talk about optimization for ads delivery today.

This is the new way Facebook allows advertiser to choose this optimization option. When you create a ads, in the ads targeting section you'll see this: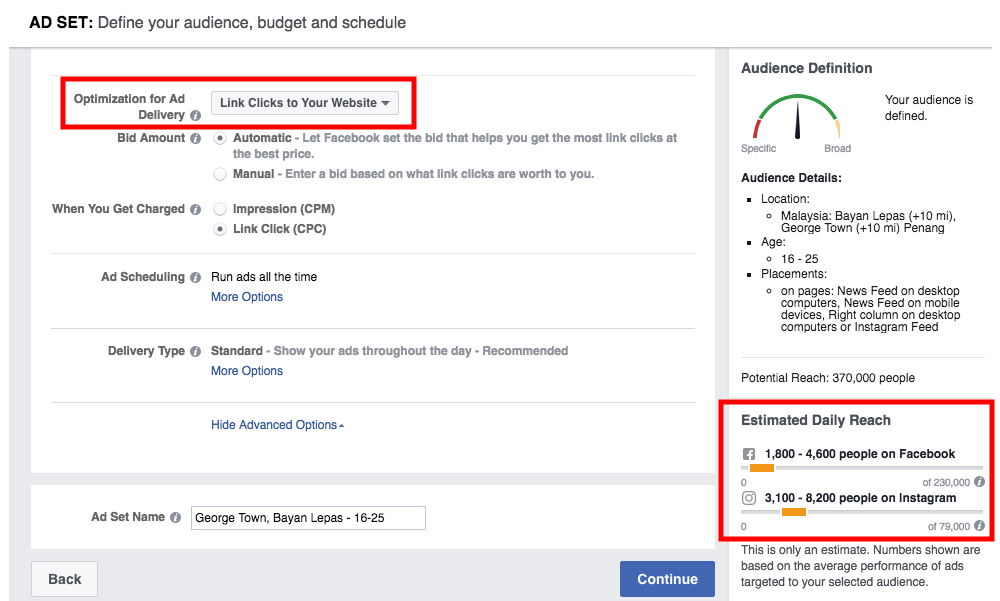 There are 3 optimization options for website click ads (similar to others, except for page likes ads):
Link clicks to your website – this option optimizes for the people who falls under the category of the ads objective which is people who are more like to click on ads compare to the others within the target group. (If you notice, default charging method is CPC for this option)
Impressions – ads will be delivered to people within the target group as many times as possible.
Daily unique reach – this option will get your ads delivered once to each person within your target group.
Take a look at the estimated daily reach for impression optimization: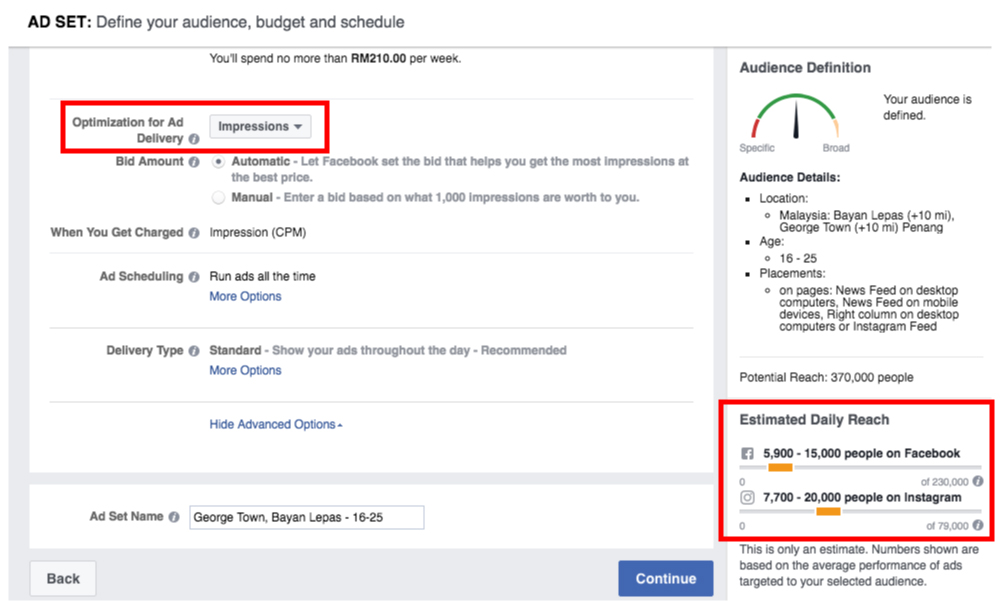 You'll notice the estimated daily reach increases significantly (3 times) compare to optimization option for click to website. Let's take a look at the last option: to optimize for daily unique reach.
As we can see the estimated daily reach almost doubled compared to optimization for impressions. The key differentiation here is no matter which option you choose, Facebook will optimize them for you to achieve your objective at the lowest cost.
So this actually falls back to your campaign strategy – are you looking to get as many website clicks possible for this campaign, or you'd like to get more people to see your ads? The new Facebook advertising targeting options may cause situations where your ads budget can't be used up (this is rare because previously no matter what your daily ads budget will finish). This could be caused by the low relevance score or targeting issue. It is more important to take a closer look at your campaigns to ensure they are running smoothly towards your objectives.
How would you use this new optimization method for your campaigns? Share your thoughts or ask questions in the comment section below.